Skip Navigation
Website Accessibility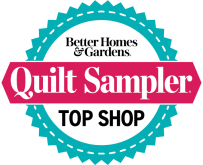 Lickety Stitch Quilts - A Creative Sewing Center
Meet the Team:

Karen Wisseman
Karen opened Lickety Stitch Quilts in March of 2010. As the owner, Karen's job in the shop lets her specialize in choosing and ordering fabrics and notions. She enjoys the challenge of finding and picking items that her customers will need and want. Her favorite must-have notion is the 6" x 24" Quilter's Select Ruler paired with the Gypsy Gripper and her handy Quilter's Select Rotary cutter. When picking fabrics to include in a quilt, she will most likely include a floral print. In her spare time, she likes spending time with family and friends – especially her grandkids!
Jane Filener
Jane is one of Karen's sisters and works in the shop daily. Before Jane and her husband Bruce moved to Lusk in 2012, Jane would visit Lusk in the summertime and help Karen with the store. Jane says her job specialty is being people's "Cheerleader". She loves to help encourage people and hopes that everyone will leave the shop with a smile. Jane's favorite must-have notion is the Quilter's Select Rotary Cutter. She also appreciates a good pair of scissors and a quality seam ripper (but prefers not to use the seam ripper!). She is most likely to include warm, earthy colors in her quilts, such as rusts, browns, and creams. In her spare time, Jane likes the camaraderie of friends and family, gardening, and music.






Joan Sundin
Joan (pronounced Jo-Ann) is Karen & Jane's mother. Joan joined her daughters in Lusk in November of 2013, after her husband, Milt, passed-away. She works daily in the shop, helping cut web-orders, quilt kits, delivering the mail to the post-office, and efficiently handles any other task assigned to her. Joan prefers to leave the quilting to her daughters but loves the feel and warmth of minky fabrics, and the practicality of items like tea-towels and potholders. When not in the shop, you will most likely find her in her flower/vegetable garden. She is well known for her incredible green-thumb, and endless dedication to her garden, even on the hottest of days.
Sarah Willey
Sarah checks in new inventory and enters it into the system, keeps the long-arm quilting machine running, assists customers, and applies herself to whatever else needs attended to around the shop . She joined the team in October of 2019. Her favorite quilting notion is the
Gypsy Gripper
paired with her favorite quilting ruler. Sarah says that when selecting fabrics for a project, she will most likely pick a "marble" print. When she is not in the shop, she enjoys crafting with her Cricut machine. She has especially enjoyed making "iron-on" crafts that she or her kids can wear. She also enjoys chasing her kids to their sporting, or other after-school events.




The Shop Itself
Located in Lusk, Wyoming, "The Heart of the Wyoming Quilt Trail", Lickety Stitch Quilts is a full-service fabric and sewing store. Our shelves boast everything from quilt-shop quality 100% cotton fabrics, to minky/cuddle fabric, all of these available in a wide variety of colors and patterns. Additionally, we carry a wide range of quilting patterns, books, notions, gifts, and finished quilts. We are also pleased to offer our customers sewing and long-arm machine quilting services. Customer service is a priority to us, so when you need a specialty product for your project, give us a call! We may be able to order it in for you! Furthermore, a wide variety of sewing and quilting classes are enjoyed by customers from near and far throughout the year. Some of our most popular events are our Spring & Fall "Quilt 'Til You Wilt" retreats which are acclaimed by even the most seasoned quilters.

Western fabrics are a specialty of the shop, including Licensed Wyoming Bucking Horse fabrics and kits.

Next time you are in Eastern Wyoming, please stop by the shop. Also, be sure to visit us online often as we add new products regularly to the web-store.

Hours are: Open Monday through Saturday 9-4

Closed Sunday
If you need to shop outside of these hours, call us and see if we can arrange it.
Lickety Stitch Quilts
PO Box 776
206 S. Main
Lusk, WY 82225
307-334-9963
Karen Wisseman, Owner