Worldwide Quilting Day Event, March 16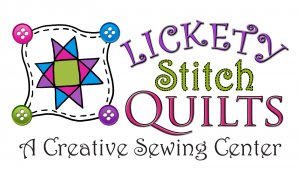 206 S. Main
Lusk, WY 82225
307-334-9963
www.licketystitchquilts.com

We received in a large number of new western and southwestern prints and panels, which are Value Priced at $7.99 per yard. To see them,
click here
.


More Monkey Around coordinates arrived - we have a free pattern available with purchase of Monkey Around fabrics!.

Remember - Sewing Day at Niobrara Senior Center March 2, 9 a.m. til. 5 p.m. Call for details. 307-334-9963

CELEBRATING
NATIONAL AND WORLDWIDE QUILTING DAY PLUS
LICKETY STITCH'S 3RD ANNIVERSARY

WHAT: You are invited to join us March 15 and 16 for a 28-hour Quilting Celebration.
WHEN: Friday, March 15, at 2:00 p.m. thru Saturday, March 16 at 6:00 p.m.
WHERE: Niobrara Senior Center, 611 E. 6th Street, Lusk, Wyoming.
WHY: This event/retreat is our gift to you for your continued support that has made our store a success. We are celebrating Lickety Stitch's 3rd anniversary on March 2nd, as well as World Wide Quilting Day and National Quilting Day on March 16.

Bring your sewing machine, projects, and sewing supplies (don't forget an extension cord!) and "Quilt 'til you Wilt!" Join us for all or part of the 28 hours, sew all night or as late as you like on Friday, March 15,then come back or stay until 6 p.m. on Saturday, March 16.



Refreshments and Snacks will be provided by Lickety Stitch.

Hourly Door Prize Drawings!


Besides a chance to sew, planned events include:


Free Demonstrations & Mini Classes -
- March 15, 7:00-7:30 p.m. Machine Quilting on your sewing machine -
- March 15, 7:30-8 p.m. Fun and Fabulous Place Mats for every occasion
- March 16, 10:00-10:30 a.m.Tips for putting on Borders so they lie flat (no more wavy edges!) and Bindings (including those dreaded corners!) to successfully finish your quilts.
- March 16, 11:00 a.m. Quilt-as-you-go techniques.
- Seven Summits Strip Quilt Challenge (see Quilt Recipe Below) A national challenge to see just how many mountains-worth of quilts America's quilters can create in one day! The details can be found at
Worldwidequiltingday.com
. There is also a video of the strip quilt if you want more detailed instructions on this site.
- Quilts of Valor for our own Military personnel -
Our goal is to make a quilt to present to each Niobrara County resident who is in the military. We are requesting help on every level for this project - if you have an hour or two or more to volunteer - we will have projects going for every pair of willing hands! Do you have any fabric in your stash you would like to donate to this project? Red, White and Blue fabrics would be welcome, as well as anything else we could work in with them to make commemorative quilts to honor and thank those in the military. We need approximately 20 or 25 quilts. We hope to get a good start on this weekend, but it will be a continuing project that we will be working on throughout the year. Quilts do not have to be red/white/blue in color scheme, so if you have quilts, quilt tops, or fabrics that could be used for this project please let us know or drop them by the shop. We plan to have one or more kits cut by the 15th for anyone who can to work on. This will be a community project and the plans are still in the making - if you have ideas, suggestions, or means to help us make this happen, please let us know. Do you belong to a group that is looking for a worthy cause to support? Please consider this project and get in touch with us if you are willing to help. We would like to encourage others to participate by purchasing supplies or raising funds to be used for supplies for the project. Are you a long-arm quilter or willing to bind quilts? There will be need for quilting and bindings also.


Nine Patch Stars and Stripes - Free Downloadable Pattern
- National Quilt Day is also March 16. Read about the sponsoring organization, National Quilting Association here or - Download free pattern for Nine Patch Stars and Stripes quilt pictured above by clicking here.

Here are a couple more fun links to check out -
25 Free Quilt Patterns from the past - Posted on the Denver Post blog.
Moda Friendship Quiltalong - Free patterns to add to your pattern collection plus lots of interesting quilting blogs to inspire you!



Quick Strip Quilt Pattern:
What you will need:

-one set of pre-cut, strip quilt (2 1/2" x 44" strips) of fabric or cut your own, about 40 strips

-pre-wound bobbins (3 to 4)

-a couple spools of thread
Prep:
1.Sew each pre-cut strip to another in your roll/strip quilt bundle end to end (may use a 45-degree seam) to make a 2-1/2 inch by 1600-inch strip of fabric.

2.Trim seams to 1/4-inch and clip threads that chain the strips together.
3.
Take the first strip and cut it in half at approximately 18". Throw the strip away or add it to your stash. This will cause the fabric staggers to be in the middle of the quilt and not on the sides.


Construct

1.Folded in half with right sides together, sew folded strip down one side, cut at fold.

2.Fold in half again, sew, trim and repeat. Do it again and again and again!
Finish with a quilt top, ready for a border (or not!) and quilting.
Without borders, this quilt finishes at about 50" x 50" square.