Skip Navigation
Website Accessibility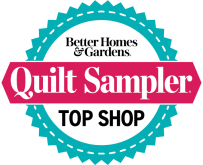 Should you prewash your fabrics before making a quilt?

206 S. Main, Lusk, WY 82225, 307-334-9963, www.licketystitchquilts.com
February 27, 2014
To Prewash or Not - That is the Question.
Should you prewash your fabrics before making a quilt? Well, it depends...! Hopefully we can give you some guidelines here that will help you in making the best decision for your situation.

NEVER prewash precuts - such as jelly rolls (2-1/2" strips), charm packs ( 5" squares), or layer cakes (10" squares). The reason for this is there are so many cut edges, each of which will fray out somewhat - and you will end up with smaller pieces and a mess of tangled threads.

ALWAYS check intense reds and hand-dyed fabrics for color fastness - as it seems these bleed worse than other types of fabrics.

Other than these two situations, prewashing is a personal choice. I am including a link here that has some very helpful information. It covers the subject so well that I don't feel there is any point in saying more - I would highly encourage you to go to this site and educate yourself.
Prewash or Not?
---
Quilt 'Til You Wilt March 14-15


Plans are well underway for our overnight quilting event March 14-15 at the Lusk Senior Center. We will be cutting off registration March 7 at midnight or when all slots are full - get your registration in now so you don't miss it. Doors open Friday, March 14 at 3 p.m. and close Saturday, March 15 at 9 p.m. Come sew all night if you are up to it, or as late as you like and come back in the morning. The cost is $10 per person. Join us for a
30-Hour Quilt Retreat to finish your UFO's, work on your projects, participate in exchanges, and enjoy the camaraderie of fellow quilters. Snacks and drinks will be provided. Bring your sewing machine, rotary cutter, rulers, and necessary equipment, as well as your projects. Irons and ironing boards will be provided. Call for more information at 307-334-9963
---
SHOW & TELL-DEMOS-PRIZES-MORE
Friday, March 14, 7-8:30 p.m.


The community is invited to join us at Quilt 'Til You Wilt 2014 for show & tell (bring something to share!), skill building and new product demos, door prizes, and whatever else we can think of to add for an evening of fun. We plan to have a "Garage Sale Table " of sewing related items to benefit the Military Honor Quilt Project and other community quilt projects that are in the works. A number of books, patterns, fabrics, unfinished projects, sewing supplies, buttons, and etc. have been donated for this purpose. If you have any similar items that you would like to donate for the benefit sale, bring them in and we will add them to the table.
---
SEWING SATURDAY - MARCH 1
Jude Redfield is the hostess for March 1 Saturday Sewing Day at the Lusk Senior Center from 9 a.m. to 4 p.m. All are welcome to come and sew. If the weather is bad and we get as much snow as is predicted, please call me at 307-851-5011 (my cell phone) or 307-334-9963 (quilt shop during business hours) to see if we are going to go ahead with plans for the day - if it is too bad, we will cancel for this Saturday.
---
Mother's Day, Father's Day, Weddings, Graduation, New Baby


Now while the snow is flying is a good time to be working on projects for special events coming up in the spring and summer. We have a couple of really special quilt patterns/kits in the development stage that would make wonderful gifts for these special occasions. Watch for them in upcoming newsletters.
---
FaceBook Give-Aways

Have you been following us on facebook the last few weeks? If not, you have missed out on special offers and a couple of give-aways. Go to https://www.facebook.com/licketystitch and like our page, then add your comment so you are in the running to win a new Moda precut pack or a fun fabric shopping bag. More offers will be forthcoming, so follow us on Facebook.