Skip Navigation
Website Accessibility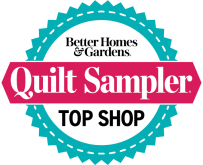 Workin' The West Panel Back in Stock - Plus....

206 S. Main, Lusk, WY 82225, 307-334-9963, www.licketystitchquilts.com
December 21, 2014

I promised I would send out a notice when we got the Workin' The West panels back in stock. Click here to order or call the store at 307-334-9963. We had these panels in earlier and they sold out quickly, and we have been awaiting a new shipment for months - so know these will also sell out quickly. We have a new kit that will be available soon using these panels - watch for it in January.
---

New Retro Western Collection


Ride'em Cowboy! from Robert Kaufman.

---

The Quilters Album of Patchwork Patterns
by Jinny Beyer

If you love quilts, you WILL love this book! Created by Jinny Beyer, it
provides quilters, researchers, and design enthusiasts with a comprehensive tool for finding, identifying, and drafting more than 4,000 unique patterns, this encyclopedia of quilt block designs presents a method of categorizing designs that eliminates duplication and allows quilters to understand exactly how each one is constructed. Each design is analyzed in terms of the grid on which it is drawn, making it easy recreate the pattern in any size or color scheme desired. Each block is thoroughly researched and listed according the original name and date of publication. Double names and duplicates are cross-referenced for easy use. Packed with information and inspiration, this also contains photographs of full quilts, as well as a detailed bibliography and indexes.
470+ pages packed with wonderful inspiration for your creativity!
---
********************************************************************************************************
Coupon - Valid 12/21-12/31 While Supplies Last


The Quilter's Album of Patchwork Patterns
Regularly $49.95
Save $10


Present in store or call with Coupon Code QAPP for this special offer.




**********************************************



---
Frozen Fabrics In Stock!




Anna's Friends Soft Book Panel.

Frozen Character Toss
Check the website for many more Frozen prints available.

---