Skip Navigation
Website Accessibility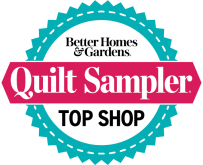 Farm Girl Vintage BOM bonus offer!

206 S. Main, Lusk, WY 82225, 307-334-9963, www.licketystitchquilts.com
September 29, 2015


Farm Girl Vintage Club and

FREE BONUS BLOCK

Offer

We have started our Farm Girl Vintage Block of the Month Club and wanted to let you know the details so you can consider joining us on our adventure!

The first set of 4 blocks are ready to ship. The pieces for each block are PRECUT - which means all you have to do is sit down at the sewing machine and sew!

We have done the tedious part for you

-- choosing and obtaining the fabric, precisely cutting up to 44 pieces for a block. Now you get to do the fun part - sewing the blocks together!


What will you receive in the envelope when you subscribe to the FGV Club? Each month you will receive a set of four block kits. Each block is in a separate zip-lock bag marked with the month and row, as well as the page number in the book where you will find the instructions.

For the first 15 customers to subscribe, we are enclosing a free BONUS BLOCK KIT this first month. The "bonus block" is extra and will not correspond with a certain row. You can use it in place of another block later in the quilt if you desire, or make a separate project with it. We suggest you make it first for practice and check out your seam allowances while sewing – make sure it completes to be 6-1/2" x 6-1/2". Accurate seam allowances are very important in this project and you need to use a scant 1/4 inch throughout.

At the end of 12 months you will receive the fabric for borders and binding free. We will be giving some other options besides yellow for the outer border for those who would prefer a different color. Otherwise, we will be following the color placement of the quilt on the front of the book as closely as we can with the fabrics we have available.

There are two ways to purchase the club. First is to pay for it monthly - $19.99 for 12 months. The second is to pay $229.88 for all 12 months up front, and save $10. There is a $3 charge for shipping each month - for a total of $22.99 monthly, or for a total of $265.88 if paying up front.

Call us today at 307-334-9963 to subscribe!

HELPFUL TIP: There are a lot of little pieces in each bag, so make sure you open it in a controlled environment! We suggest placing it on a blank sheet of paper beside the book page with the corresponding block. Identify each piece with the 6" block list – making sure to measure the pieces so you know which is which. Count the pieces to make sure they are all there. Look on page 6 to see how the author identifies each piece. Mark each piece with a piece of tape with the identifying letter. If you are not finishing the block in one sitting, it is a good idea to put the project in a plastic shoe box or similar container so nothing gets lost. You will need every piece to complete the block!