Skip Navigation
Website Accessibility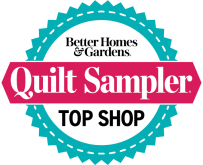 Farm Girl Vintage ready

206 S. Main, Lusk, WY 82225, 307-334-9963, www.licketystitchquilts.com


Hello Farm Girls!

For those of you who pick up your block kits, they are ready for pick up at the shop. We are not planning a get-together this month.

For those of you to whom we ship, they are going out today.

Please keep us advised of credit card updates if you are on the auto shipment plan, as we have a couple kits we are unable to ship due to credit cards being declined.

The Tuffet Class is scheduled for next Saturday, April 9. We need to hear from anyone interested very very soon as our supply of kits is limited and we will have to order more as needed.

We are planning a painting session for our Quilt Trail Blocks - but must have the blocks built and ready before the class. We have gotten measurements from some who are interested - but need you to call with the size of block you want so we can get them ready. The sooner the better! Sizes possible are: 8'x8', 4'x4', 3'x3', 2'x2', and 1'x1'. Cost depends on size. We are not charging for the class or putting the blocks together - just for the supplies. This offer will likely end soon - Dave is building the blocks for us but will soon be getting busy with outside work, so then folks may be on their own building blocks! Call 307-334-9963 days or 307-851-5011 evenings to put in your order.

New Arrivals
Square up rulers in many sizes came, as well as Stripology rulers are back in stock. Pocket Full of Rulers patterns came in also, for those of you who were interested.

We got over 80 new book titles in and are having a sale at 50% off - in shop only. Stop in and see if there isn't one or more you need for your book collection!