Spring at Lickety Stitch Quilts

206 S. Main Street
Lusk, WY 82225
307-334-9963
www.licketystitchquilts.com

Welcome Spring Sale
April 27 -May 7, 2011


Come in and help us celebrate spring with our Welcome Spring Sale from April 27 through May 7. Store-wide specials including:

Batiks 10% off
All Quilt Kits 10-30% off
New additions to the Clearance Section 20-50% off.
27 bolts of bright prints at $2.99
One aisle Moda prints - 15% off
Three racks of patterns - 30% off
Gingher knife-edge 8" dressmaker shears - 10% off
AccuQuilt GO! die cutting machine - $50 off.
Save 10% on all dies purchased with your AccuQuilt Go Cutter.
PLUS - FREE SPOOL OF COATS and CLARKS thread with every purchase during this sale!

REMEMBER MOTHER'S DAY and GRADUATIONS with a gift from Lickety Stitch or a Lickety Stitch Gift Certificate.

NEW - FLAG of VALOR kits from Moda. These come in a cute draw-string bag made from star fabric. Make one to donate to the Quilts of Valor program or for a beautiful patriotic accessory for your home or a gift.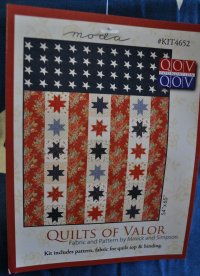 We now carry over 400 colors of DMC embroidery floss as well as a much more complete display of zippers, trims, and ribbon.
The new Sturgis bike fabric has arrived. This print is a very limited edition and not widely available. We were fortunate to be able to obtain one bolt. If you are interested, don't wait on this one!

Our online store is growing daily. Sharon is diligently working at getting all the fabric photographed and details entered so you can shop online. Our goal is to have every fabric in the shop online soon. Then we will start with patterns, books, and notions for a complete quilt shop experience.
Potato microwave cooker kits and tortilla microwaver warmer kits are now available, as well as the fabrics to make them and Warm Tater, a special batting that is safe to cook with as it is 100% cotton and contains no resins.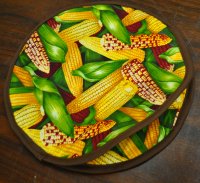 We have the Twister templates used for making pinwheel blocks with a new easy method. Available in two sizes, one to use with 10" blocks (layercakes) and one to use with 5" blocks (charm packs). Stop in for a quick demonstration. The quilt below was made using one Dilly Dally layer cake from Moda. Consider backing your quilts with Minkee like I did this one. Binding is fast, easy, and adds a pretty fuzzy frame when you bring the Minkee backing around to the front. Minkee makes a quilt very warm and soft and a sure favorite for a child of any age!

!

Here is a great gift idea for new mothers: Reusable diapers and diaper covers made from Kwik Sew's pattern available at Lickety Stitch. Also available is diaper flannel and waterproof diaper cover material. Save hundreds of dollars over the cost of disposables plus help the environment by not adding diapers to the landfills.


Here are a few more uses for Gloves In A Bottle, available at Lickety Stitch:

Gloves In A Bottle works great for gardeners working with plants that may cause skin allergies. It also makes cleaning up easy, after coming in contact with sap and other harsh elements in the garden.
It is also great to put on before you go swimming in chlorine infested swimming pools that can dry out your skin. If you forget to put it on beforehand you can always keep your moisture intact by applying it after a swim, after washing off the chlorine first.

GIAB is very effective for helping prevent diaper rash on babies and is also safe enough for their sensitive skin.

It works great to help protect against poison oak and poison ivy before a hike.
Please remember to wash your skin before applying Gloves In A Bottle as it will seal in whatever is on your skin. Ideally, you want it to simply seal in your natural moisture. GIAB is different from other lotions because of these protective and moisture-retaining abilities. I invite you to try it out yourself and discover the many great uses of it.

Stop in soon to see the new products and take advantage of the Welcome Spring specials!