NEW Wyoming Bucking Horse Fabric with Coordinates

206 S. Main, Lusk, WY 82225, 307-334-9963, www.licketystitchquilts.com
August 8, 2016

They arrived today! The NEW Wyoming Licensed Bucking Horse Batiks! The horse and rider are about 4 inches tall and 3 inches wide, and the W is about 2-1/4 inches tall. We have coordinating batiks to go with every colorway. I included some in the pictures so you could get an idea of some possibilities for your projects. Preorders will be shipped 8/9/2016.


Cappuccino and Dijon colorways with coordinates.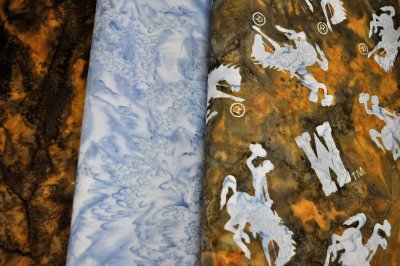 Peace colorway is light blue on brown.


Bison colorway is softer gold with brown.


Navy colorway is a light on darker denim blue.


Tea Rose is pink on mottled black.


Iguana is light blue on blue-green. The picture here doesn't show the color of iguana well - it has more green in it than shows up on my screen. You can order them online at www.licketystitchquilts.com and search for the word "new".

Also just in - a really great grouping of Western Minkees!



The top one in this picture has western cowboys, stage coach, windmill, cattle, horses, mountains, etc.



I haven't had a chance to get these entered into the system so they don't show up on the website yet - hopefully that will happen tomorrow or the next day. If you HAVE to have some, though - call us, because they started selling as soon as they were unboxed and I don't think they will last long! These will make wonderfully soft quilts for cowboys and cowgirls as well as anyone with a western decor.