Skip Navigation
Website Accessibility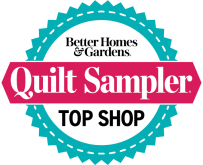 Feed the Spark!

206 S. Main, Lusk, WY 82225, 307-334-9963, www.licketystitchquilts.com
February 25, 2017

Hello Dear Quilting Friends,

Have you fed your creative spark today? It is there, waiting for you to bring it into the open air and see the flame come to life!

Our purpose at Lickety Stitch is to help you feed your creative spark, providing you with the products and guidance you need to come alive and create. We want to encourage each of you, whatever your skill level, to discover your creative passion. There is nothing more satisfying to us than to have one of you leave the shop inspired, motivated, excited and enthused about your current project or one you are planning. We love to help you find the right fabric, thread, pattern, or combination of these to turn your dream into reality.

Coming up March 24-26 is our Quilt 'Til You Wilt Retreat. Space is limited but we still have a few seats left. Make your reservations today if you want to join us! Call for details - 307-334-9963.

The Hot Pad Exchange is winding up - bring yours in within the next week in order to be included. Don't forget to bring or send your recipes to be added to our booklet.


The winner of the Valentine's Day drawing for the peacock panel and fat quarter pack was Stephanie Baldwin, from Lusk. Congratulations, Stephanie, and we hope you are inspired to create something beautiful with your gift!

Ranch Hands is a new collection that arrived this week with all the western elements we love plus a clever print of western phrases. Here are a few examples from the collection:



Two new kits are available - Anne's Quilt, showcasing the Anne of Green Gables collection, and Flower Burst, a brilliant panel quilt that is quick and easy to complete in a few hours.




There is now a hole in the wall between the shop and the annex. It is covered with plastic to keep out dust, but we are excited to see the daily changes as work progresses. Presently my husband, Dave, is chiseling off the plaster to expose a brick wall that is over 100 years old! It has been interesting to note how they used bricks of all colors to build it, probably never expecting someone to take the plaster off and see that the bricks didn't match! I think it is perfect for a quilt shop - full of character and certainly not boring. Fortunately I am not actually wearing a hard had or wielding the tools to get the job done - there are people who are qualified doing the work!