New Class Announcement & Knits

206 S. Main, Lusk, WY 82225, 307-334-9963, www.licketystitchquilts.com


Basic Applique Technniques
Monday, September 25, 9:30 to 2.

Never again will you shy away from applique! Applique adds a dimension that can't be obtained with any other technique. Jane will be teaching this class and covering applique basics. You will create this Sunny Sunflower Tea Towel, plus some pumpkin coasters as time allows. Learn several techniques with satin stitch, blanket stitch, interface and turn, and ric-rack application. Bring your own sewing machine and basic sewing supplies.
$25 class fee includes instruction, tea towel, and all fabric supplies needed for project except thread.
Register online Here or call 307-334-9963. Supply list available online.



***************



Free Motion Quilting on your Domestic Machine




We still have a few seats left for the free Motion Quilt Class with Penny Olive on Saturday, October 7. If you would like more information on the class, go to licketystitchquilts.com and click on "classes" from the home page. There you can access the class with the supply list. Cost is $80 for the day-long class. Sign up on the web site or call 307-334-9963.
***********


Thursday Evening Beginning Quilting Class



Although we started the class last week, you can still catch up if you call today. The participants chose their fabrics last week and we went over the supplies needed. If you would like to join this beginning class, call to reserve a spot and then come in before the class on Thursday, September 21, to get your fabrics so we can get started cutting and sewing on this Thursday! Thursdays at 6 p.m. - $60. We will be meeting for 6 to 8 sessions or as necessary to get your quilt finished.

*********************


Possibly the softest knits you have ever seen!


Garment sewers - we know how hard it is to find really nice quality knits for tops, dresses, skirts, and leggings! We were thrilled to find a source for double brushed poly spandex knits that far exceeded our expectations. These are super soft, have a lovely drape, are a nice weight for garments being not too heavy and not too light. They are a breeze to sew, especially with a serger. We are starting with a selection of 20 prints and plan to expand to solids and more prints in the near future. Customers who have purchased these have been pleasantly amazed with their quality and price.


Here are a couple of pictures of projects I made of them recently for my granddaughters. Ivey's is a soft swingy dress, and Sadie wanted leggings - with each leg a different color.

********************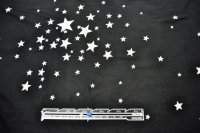 Here are some examples of the prints we have available. At present we do not have them on the website but you can call to order, or better yet, stop in the store! Double Brushed Poly Spandex, 60" wide.
Price is $9.99 a yard.

****
Sewing for a Cause
Wednesdays thru September we are hosting Sewing for a Cause sessions from 9:30 to ??? for anyone who has some time to spare to help us make quilts, pillowcases, and other items that will be donated to worthy causes. Come join us!
****