Skip Navigation
Website Accessibility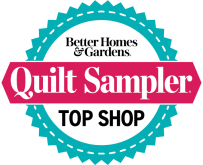 Summer Sew Days

206 S. Main, Lusk, WY 82225, 307-334-9963, www.licketystitchquilts.com
Learn to sew or refresh your skills

Lickety Stitch is participating in a nation-wide Sew Days program that will include 6 sessions in June and July promoting and teaching sewing skills. Participants will make a complete project each session and learn basic sewing skills in the process. We will be doing the classes on Tuesdays starting at 2 p.m.
June 12 - Last Minute Runner
June 19 - Stow and Go Tote
June 26 - Tea Towel Apron
July 10- Quick Zip Bag
July 17 - Card Case
July 24 - At Your Fingertips Caddy
Cost for each session is $15 which includes supplies and instruction. For those who do not have sewing machines, we will provide machines and all the tools needed. If you have a machine, we will provide any help you need to learn to use it.
If you are interested, please reply with an email to karen@licketystitchquilting.com or a phone call to 307-334-9963 letting us know of your interest.
Each class will be independent and you can attend one or all of them. Class size limited to 6. Call today if you are interested!