75% off sale - this Friday and Saturday

206 S. Main, Lusk, WY 82225, 307-334-9963, www.licketystitchquilts.com
Semi-Annual Clearance Sale, up to 75% off kick-off Friday, July 5 and Saturday, July 6
We have been drastically cutting prices on hundreds of bolts of fabric, books, notions, patterns, thread...
This is the biggest clearance sale we have ever hosted, and you are invited!
Doors open at 9 both days.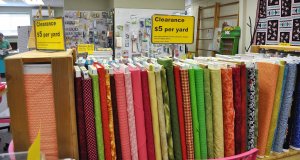 Reminder of Penny Olive's Free-Motion Machine Quilting class on Saturday, July 14. We need a few more sign ups in order to hold the class, so if you are thinking about it, please register very soon so we can make sure this class is a go!
Thanks, everyone, for your continued support. We wouldn't be here without you.