Skip Navigation
Website Accessibility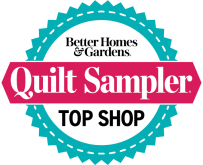 LSQ August happenings

206 S. Main, Lusk, WY 82225, 307-334-9963, www.licketystitchquilts.com
Penny Olive Machine Quilting Classes
Don't miss this opportunity to improve your machine quilting skills with the expert guidance of Penny Olive as she shows you new techniques, new patterns, and as always, her invaluable tips and tricks for quilting on your domestic sewing machine. This will be the last time this year Penny's classes are offered at Lickety Stitch Quilts in Lusk. There is still room in both classes - Friday, August 10, More Free Motion Quilting with Penny and on Saturday, August 11, Fantastic Feathers. We are so fortunate to have a teacher of Penny's caliber come and offer this world-class instruction locally! Sign up for more than one of these classes and save $10 per session. For more information and to register online, click the class name above.



I Love Fabric Days - August 17 and 18


Join us at Lickety Stitch as we celebrate

I Love Fabric Days

on Friday, August 17 and Saturday, August 18.
These two days will mark the end of our Semi-Annual Clearance Sale that has been going on since the first part of July - and you will be blown away by the prices in the clearance room as we take final mark-downs. In addition, we will be featuring new fabric collections and notions that have recently arrived.
Pick up August's free BOM these two days - this is the last block to complete your collection. Did you miss picking up a block or two over the year? Past month's blocks are available for purchase with a limited supply of some month's block. Here are a couple of ideas how to use your blocks.




Dubois Barn Quilt Block Painting Class September 29


We have a

very limited

number of seats available for the Barn Quilt Block Painting Class being offered in Dubois on September 29, 2018. Call 307-334-9963 soon to reserve a place in the class if you are interested, as this class is being sponsored by the quilt guild in Dubois and will not be offered on our website.