Skip Navigation
Website Accessibility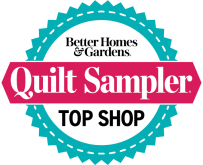 Semi-Annual Clearance Sale up to 75% off and Classes

206 S. Main, Lusk, WY 82225, 307-334-9963, www.licketystitchquilts.com

December 29, 2018
Semi-Annual Clearance Sale
It is that time of the year again! We have marked down fabrics, books, gift items, and more - up to 75% off. These bargains are in-store only due to limited stock. A sample of the savings is: 50% off select books, 30% off select gifts, new large group of $7 fabrics including quilting cottons and knits, 50% off select Minky, select panels $5 each.
OPEN SEW DAYS
With the holidays behind you, January is a perfect time to work on quilting and sewing projects. We are setting aside Tuesdays in January for open sewing in the classroom here at Lickety Stitch. You can come in from 9 a.m. to 5 p.m. or any hours between. Bring your own sewing machine, projects and notions. We supply irons and ironing boards. Limited to 6 participants per day, so sign up now for the days you wish to attend. This is your chance to focus on and finish those projects and gifts. Cost is $10 per day Click Here to sign up.
Local Quilt Shop Day - January 26
Put Saturday January 26 on your calendar now as a day you plan a trip to Lickety Stitch Quilts. We are in the planning stages for an extra special day of savings, demos, and goodies - you won't want to miss it. More details in the next newsletter...
Reminder: Sewing Machine and Serger Basics Classes


If it has been a long time - or maybe never - since you had your sewing machine or serger out and running, maybe you need to come take a refresher course on the basics to get started again. January 4 at 1 p.m. will be Serger Basics, and January 19 at 10 a.m. will be Sewing Machine basics (note date change from last newsletter). Bring your machine and its instruction book and we will get you up and running for the New Year! Click here to sign up.

Jingle for January

There are a few more days to collect January Jingle Coupons with your purchases - to be redeemed in January for a free gift and discount on your purchase then. Collect one per day with a $25 minimum purchase, redeem one a day in January with a minimum purchase.
Jelly Roll Rug Class
Join us on January 23 from 10 a.m. - 5 p.m. and make this fun and practical rug from your choice of jelly roll. This class requires some preparation to get your strips sewn together ahead of the class day so you can start on the construction of the rug without delay. We have many new jelly rolls in stock to choose from. The pattern is included in the class fee of $35. For more info or to sign up, click here.
Scraps - lets use them!
If you have been a quilter for any length of time, you likely have bags, boxes, totes, or piles of scraps. Yes, we know a few of you who don't keep one extra scrap around after the quilt is finished, but you are the exception rather than the rule! So - we are planning some projects that will use up those scraps. Watch future newsletters for what we come up with!