206 S. Main, Lusk, WY 82225, 307-334-9963, www.licketystitchquilts.com


New Workshop! Created just for Lickety Stitch Quilts -


Free-Motion Quilting A Wholecloth Quilt with Penny Olive



Two days spent with Penny's instruction and inspiration will get you free-motion quilting confidently on your home sewing machine. If you have ever wanted to quilt a wholecloth quilt, this is your opportunity to learn under Penny's expert guidance. It will also help with planning how to creatively fill any negative space on a quilt. Each person's quilt will turn out different as you choose the elements to include on your project. Click here for more information and to sign up for the two-day workshop September 27 and 28. Seats are limited, so take action today.

Fall is just around the corner and this whole cloth quilt will give you an opportunity to express the season with your own creativity using designs from the Beginning and More Free Motion Quilting classes. But you can make it your own too in any way you would like! Penny is here to help you through the entire process! We'll start the day on Friday warming up with Quilting Calisthenics. Then we'll review the basics of a feather plume in case you want to put a couple in your whole cloth! The day will end marking and drawing the key elements onto our whole cloth quilt! And don't worry! If you have troubles drawing the design, I'll have the elements on paper to use with a lightbox! If that's not enough to whet the appetite, try a weekend on your own, great friendships and shopping at Lickety Stitch Quilts!!
Look for the complete supply list at the beginning of September!!

Fractured Paintbox Class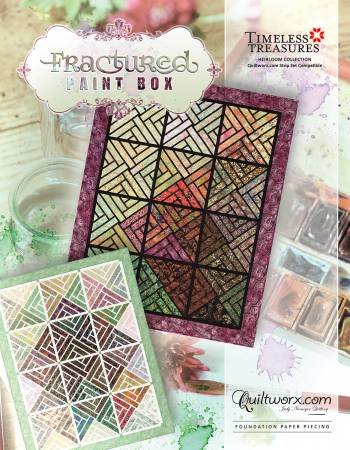 Michele Everts will be back for a two- day Judy Niemeyer class on September 14 and October 12. Michele is a wonderful teacher, and she can help students at any level with learning the Judy Niemeyer techniques to paper piece this stunning quilt. There are only two spaces left in the class, so if you are interested act today. Click here to sign up or for more information about the class.

Quilt 'Til You Wilt Retreat
Our fall Quilt Til You Wilt Retreat dates have been set for November 8, 9 and 10. Take 3 days out of your busy schedule to enjoy sewing, learning, and chatting with other quilters and sewists. Check out all the details here.

Tuffet Class in the Planning Stages
We are planning a Tuffet Class at Lickety Stitch for October 19 and 26. All the details have not been worked out yet so we don't have it ready for you to sign up, but save the dates if you are interested!