Skip Navigation
Website Accessibility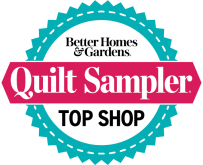 So Much to See and Do at Lickety Stitch...

206 S. Main, Lusk, WY 82225, 307-334-9963, www.licketystitchquilts.com



Reminder: Open House at Lickety Stitch Quilts in Lusk on December 3rd from 10 a.m.-7 p.m.
Join us for in-store specials, cinnamon rolls and cookies all day!

Gold Strike at Lickety Stitch
Gold has been discovered and the gold rush is on!
Collect valuable gold nuggets with every visit to Lickety Stitch between November 29, 2019 and January 24, 2020.

Pick up your Gold Rush Playing Card on November 29

and get double nuggets for any purchases that day. You will have opportunity to exchange your nuggets for prizes, savings off purchases, and special merchandise between January 25 and February 15, 2020. The shopper who turns in the card with the most nuggets on January 25, 2020 wins a $50 shopping spree!
Follow Lickety Stitch Quilts on Facebook and Instagram to learn about more ways to earn prizes and nuggets.



Stuff Your Stocking




Make sure your stocking this holiday season is stuffed with items you love and want for your sewing and quilting hobbies! Starting December 1, we will be sending out emails with a Stuff your Stocking special of the day. Each item will be available for one day only at the special price and quantities will be limited. Some of the items may be our favorite notions, fun gift items, products we know you will love, coupons, chances to join Lickety Stitch Quilts events and clubs, and whatever else we can think of that looks like a really fun thing for our customers. No one will know what the next day's items will be (as we will be choosing them as we go). You will call us and let us know you want to reserve that item. Each day for 12 days you will have a chance to add items to your gift bag. You will be notified to pick up your bag as soon as all the items come in (some will be special ordered) and distributed. We can ship your choices if you are not able to get in to pick them up so this special is available to everyone. Items will be paid for at the time of pick up or at the time they are shipped. Bonus: Select five or more Stuff Your Stocking items and receive a free gift in your bag from Lickety Stitch! Details will be in each email, so just be sure to open each email you see from Lickety Stitch!
BUFFALO ROAM WALL-HANGING CLASS

Create this beautiful 70" x 54" wall quilt featuring the Roam pattern by Sewn Into the Fabric. The two

-day class January 10 and January 24 will be taught by Jane Filener.

Class fee is $60 plus cost of supplies. Supply list will be provided with registration.

Beginning Quilting Class Series


Learn the basic skills needed to start quilting in this six-week class series. We will work with you at what ever skill level you are, whether you have had little or no experience sewing or just want to improve your quilting skills. Lessons will include choosing fabrics and supplies, reading the pattern, cutting with the rotary cutter, sewing an accurate 1/4-inch seam, creating blocks, putting them together into a quilt top, and machine quilting and binding the quilt. Although you will end up with a lovely finished quilt, the focus of this class is to learn techniques. We will choose fabrics and discuss notions and sewing supplies needed at the first class. A sewing machine in good working order will be needed. Class size limited to 6 students. Classes start Tuesday, January 7, 1-4 p.m. and will be held each Tuesday through February 11 at Lickety Stitch. Cost for the series is $99 and includes pattern and instructional materials.
Table Topper Club

Table toppers are a fun, quick and economical way to display your quilting talents and also make great gifts. Join the Lickety Stitch Table Topper Club for a 12-month series of classes and in one year you will have creative table decor for every month. We will use the book "Table Toppers" from Fons and Porter and create seasonal runners and toppers, each using different techniques and creating a multitude of shapes and sizes of quilted projects appropriate for table display. The first club session will be Thursday, January 16, 10 a.m. to 4 p.m. The following sessions will be the third Thursday of the month throughout the year. Purchase of the book admits you to the club, and each club session attended will be $20 plus the cost of materials. We are planning special things for club days including recipe swaps, a salad luncheon, brunch, and more! We guarantee this will be a fun monthly get together at Lickety Stitch with other quilters. It will not be required to attend every session, but prompt sign up is encouraged as seats will be limited.


Bee Happy! Quilt Along Days




The Bee Happy quilt is a shop favorite, with all the fun details celebrating a country summertime day including camping, lemonade, sewing and so many more cute blocks. It includes a nice variety of applique and pieced blocks with embroidered details. How would you like to come one day a week on Wednesdays starting January 8 for 3 months and join our Bee Happy Sew Along! Purchase of the Bee Happy kit at Lickety Stitch admits you to these sewing days with no additional cost. If you have previously purchased the kit from us, you are also welcome. Please call and let us know if you are interested in this sew along so we can plan for activities.


Quilt Til You Wilt Spring 2020 Dates

We have established dates for the 2020 Spring Quilt Til You Wilt. It will be March 13, 14 and 15. If you attended the November 2019 QTYW, the details will be very similar. We plan to be at the Niobrara Fair Building again with similar hours, meals, and provisions. More details to come - but we wanted to let you know so you can save the dates!
Wyoming Bucking Horse Fabric


We get calls frequently asking if we have the Hoffman Batik Wyoming Bucking Horse Fabric. YES!!!! We have lots of the gold with brown/ brown with gold in both the large and small horse size. We have most of the other colors also. So if you are looking for Steamboat fabric - you will find it here! You can see it in the shop or on our website here.
New Shipment of Chala Bags has arrived!
We have the perfect bag for everyone on your gift list - and for you! Also we received a wonderful assortment of fun keychains with every subject you could want - dragonflies, feathers, cats, dogs....What a great stocking stuffer!
Contact us at karen@licketystitchquilting.com or 307-334-9963.