Skip Navigation
Website Accessibility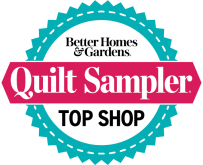 Stuff Your Stocking Day 6

206 S. Main, Lusk, WY 82225, 307-334-9963, www.licketystitchquilts.com
Stuff Your Stocking Day 6!
Buy Splash Rotary Cutter + Stash and Store, Get Rose Gold folding scissors and a surprise gift FREE!


The Stash and Store is this year's hottest gift item and is a perfect companion for your sewing room to hold all your notions like seam ripper, marking pens, scissors, and more right at hand.

Everyone can use a spare 45mm rotary cutter, and t

hey also make wonderful gifts. Beautiful Rose Gold Scissors fold for convenience of travel and storage and can be taken on a plane. Color of products may vary by what is available. Price for bundle $28.97


Call 307-334-9963 and leave a message saying "I want the Day 6 stuff-your-stocking special, the Stash and Splash Bundle." Leave your name and phone number. You can also reply by email with the same information to: karen@licketystitchquilting.com



This offer is good from 12:00 a.m. to 11:59 p.m. MST

December 6

.


We are making it easy and fun for you to get a bag of gifts that are exactly what you want this Christmas. Each day for 12 days we will be putting out an offer for a daily special. If you wish to have the daily special added to your "stocking," contact us by email or phone. You will have at 24 hours to speak for the daily special. Some may be available in limited quantities, so move quickly if you want the deal of the day! Products you speak for will be added to your bag until the 12 days are over. We will notify you when all the products are available (some may be special order) and you can pick up your bag. If you speak for at least five of the daily specials, you will receive a gift from Lickety Stitch in your bag! Payment will be made at the time of pickup. If you are unable to pick up your bag, we will arrange for shipping them to you.


Watch for tomorrows special!