Skip Navigation
Website Accessibility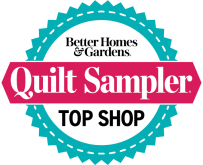 Plans for the New Year.

206 S. Main, Lusk, WY 82225, 307-334-9963, www.licketystitchquilts.com

It is going to be 2020 before we know it - so we want to remind you of upcoming classes and events to put on your NEW calendar! Don't have one yet? We have all our 2020 calendars on sale this week for 20% off.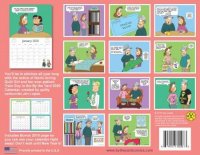 Local Quilt Shop Day is January 25. That is the first day to redeem your Gold Nuggets! Collect nuggets until January 25, then spend them between January 25 and February 15. 100 Nuggets gets you 10% off any regular priced item of your choice.... one cut of fabric counts as an item. We will also have items and products for which you can redeem nuggets - come in early for the best selection.



5th Saturday Club




During 2020 there will be 4 months containing a 5th Saturday: February, May, August and October. Just for fun we are going to have a 5th Saturday Club. Purchase our big yellow reusable shopping bag marked 5th Saturday 2020 for $5, then bring in the bag each of these "5th Saturdays" and save 20% on any regular priced fabric you can fit into the bag and still fasten it closed. Mark your calendars now so you remember to come shopping on those days!



Roam Buffalo Wall Hanging Class




Few quilts we have hung on our shop walls have gotten as many comments as the Roam Quilt, with many asking if we were going to have a class. The answer is YES! The class will run two days, January 10 and January 24, 2020. Seats are limited, but there are still spaces left if you want to join us. If the dates don't work for you, call in and we will put you on the list - if we get enough interest we will run a second class. More info on the class here: ROAM CLASS.



Table Topper Club



Table toppers are a fun, quick and economical way to display your quilting talents and also make great gifts. Join the Lickety Stitch Table Topper Club for a 12-month series of classes and in one year you will have creative table decor for every month. We will use the book "Table Toppers" from Fons and Porter and create seasonal runners and toppers, each using different techniques and creating a multitude of shapes and sizes of quilted projects appropriate for table display. The first club session will be Thursday, January 16, 10 a.m. to 4 p.m. The following sessions will be the third Thursday of the month throughout the year. Purchase of the book admits you to the club, and each club session attended will be $20 plus the cost of materials. We are planning special things for club days including recipe swaps, a salad luncheon, brunch, and more! We guarantee this will be a fun monthly get together at Lickety Stitch with other quilters. It will not be required to attend every session, but prompt sign up is encouraged as seats will be limited.



Extreme Dinosaur Panel!




There aren't too many times I get a call from my 36-year-old son just to comment on a fabric I post on Instagram. In fact, this might have been the first! I am not sure what words to use to describe the new digitally printed Picture This Dinosaur panel that arrived in the shop last week. Huge, terrifying, awesome, detailed, colorful, magnificent, unusual....? You can get an idea of how big it is compared to Sarah and Chelsea, who are holding it up in the picture. Measuring 89" x 108", there is no end of ideas what you could use this for. Backing a quilt with it would certainly make a statement! I would say that you would want to limit the recipient of such a quilt to a definite dinosaur lover, but it will certainly impress anyone who sees it!



Aurifil Thread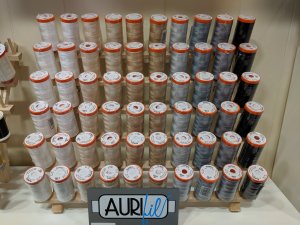 Aurifil is the thread preferred and recommended by many expert quilters. We now have a selection of the neutral colors you want for piecing your quilts. If you haven't tried it, we suggest getting a spool and using it to piece your next quilt. You just might love it as much as some of our other customers who will sew with nothing else!



Does your sewing machine need a tattoo?

No need for blah-colored sewing machines (or any other appliance, for that matter!) You can set your machine apart from everyone else's with colorful Machine Tatoos! Available in several colors and designs, this may be just the mid-winter lift you need for your machine or for that of a friend! Colorful images are printed on clear vinyl for applying to white or light colored machines and appliances.