Big News from Lickety Stitch!

206 S. Main, Lusk, WY 82225, 307-334-9963, www.licketystitchquilts.com



Our Big News for 2020




We are excited to announce that Lickety Stitch Quilts has been chosen as one of the 10 shops from across North America to be featured in the Spring/Summer 2020 issue of Quilt Sampler magazine, published by Better Homes & Gardens. The issue will be available May 1, 2020.
Competition to be included in Quilt Sampler is high - nearly 3,000 quilt shops were eligible to apply for this year's honor. To apply, quilt shop owners submit a detailed application on their history, business promotions, charitable work, teaching schedules, and design philosophies. A panel of quilt experts, spearheaded by the American Patchwork & Quilting staff, reviews the applications to select the 10 shops.
Lickety Stitch Quilts and the other nine chosen shops were photographed and interviewed by a team from Quilt Sampler for a multi-page profile that will appear in the magazine. Employees of each quilt shop also designed and made an original quilt. Instructions for that quilt will accompany the shop profile.
The art of quilting has changed dramatically since the days of quilting bees in church basements, and quilting is experiencing a major renaissance. A Quilting Consumer Insights study completed by American Patchwork & Quilting magazine reports that the U.S. quilting market is composed of 4.2 million avid quilters. Further research shows that readers of American Patchwork & Quilting spend an average of $1,165 per year on quilting supplies and complete nearly 11 projects per year.
Photography Session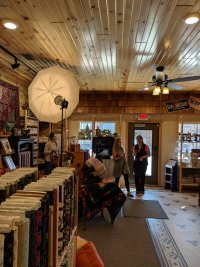 August 25 the photography crew visited the shop and took the pictures that will be included in the magazine. I must say, the shop has never looked so good! We did everything we could to prepare for them to arrive by tidying up, removing all signs, tags and plastic bags, making sure everything was in order, and staging all areas that were to be photographed by the magazine staff. When the crew arrived, we were amazed at how much attention to detail they put into every photo! You can see in the pictures above a little of how they arranged everything just perfectly so it would look good in the magazine. They worked very hard and we know that the pictures they took and the article that will appear in the magazine will be awesome!



Lickety Stitch's Featured Quilt




As was mentioned above, each shop that is included in the magazine designs a project exclusively for the Quilt Sampler to be included in the magazine. We thought you might like a preliminary glimpse - this is a snapshot taken of the quilt top before it was quilted or bound, so it looked more finished by the time we shipped it off in November to be photographed by the magazine. The magazine assigns the project a name - we are just calling it "The Southwest Quilt" until we hear what they officially name it. This quilt will hang in Quilt Sampler's booth at International Quilt Market in May 2020 in Pittsburgh, PA.

Kits for the quilt will be available as soon as the magazine is released. We are still waiting for a final copy of the pattern that will be published before we put the kits together, then we will offer a pre-order opportunity for the kits and the magazine. Watch future newsletters for this information.



Celebration Planned


A

s a customer and friend of Lickety Stitch, we want you to be included in the festivities surrounding our being chosen for this honor. We are planning a special event to celebrate our 10-year anniversary and inclusion in the magazine for May 2, 2020. Mark your calendars and plan to join us for the celebration that day. More details will follow as we get nearer the date.



Thanks for being an important part of our shop - if it weren't for our customers - we would never have had this special opportunity!