206 S. Main, Lusk, WY 82225, 307-334-9963, www.licketystitchquilts.com





We know there are bigger quilt shops than Lickety Stitch, but we don't think there are many that are better! Help us win this contest and put Lickety Stitch and Lusk on the map! Go to the following website, https://www.byannie.com/LQS-Contest, click on the "add" button under "store name", and vote for Lickety Stitch Quilts in Lusk. This contest is by @PatternsByAnnie (

#

PatternsByAnnie

#

SoftandStable

#

ByAnnieCommunity

) Vote today, as the deadline is drawing near! Thanks for your loyal support! The Lickety Stitch Quilts' Crew.



CHALA BAGS


A new shipment of Chala Bags arrived last week. With so many fun sizes to choose from, which one is your style? Stop in to see them all as there is something for everyone. You can also find them in the Gift Section online.

New Class scheduled for Roam Quilt

Our last Roam Buffalo quilt class went over so well we have scheduled another session. This one starts Wednesday, February 19 at 1 - 4:30 p.m, and there will be two additional afternoon sessions on March 4 and March 18. In addition, if you can't make any of these classes, there will be opportunity to make up a class on the Wednesdays in between and after the class dates. Attendees will be working at their own pace with Jane's guidance throughout the process. Here are some pictures I took during the last class to show how each buffalo was charmingly personalized by each student! Click here for more information on the new class and to sign up.

Table Topper Club

Jane just finished the February project for the TABLE TOPPER CLUB. You can make it in your own choice of fabrics or use the same fabrics we did - it will turn out beautifully either way. The club meets the Third Thursday of each month, which is February 20 this month. Sign up for the class here.



Cactus Flower Table Runner and Twinkle Star Classes





Congratulations to Michele Everts for completing her Judy Niemeyer Certification course! Michele will be teaching classes at Lickety Stitch throughout the year starting with the Cactus Flower Table Runner on March 20 and Twinkle Star quilt on April 10-11. If you have ever thought about a Judy Niemeyer project, this is a great place to start! Michele will be offering monthly "Sit and Sew with Michele" days here at Lickety Stitch which will be opportunities to work on class projects or any other Judy Niemeyer projects you happen to need some help with.

Quilt Til You Wilt
Our spring quilt retreat will be here before you know it! We are getting reservations almost every day, but still have several places left so reserve your seat now. March 13, 14 and 15 are the dates to block out on your calendar. For more information check our website - times and details can be
found here.
Don't wait to register as our space fills up quickly and seats are limited. If the weather does not allow you to come, we will refund your money. Hopefully there will be good roads and great weather that weekend, but in Wyoming you never know!
New Collection - Desert Rose
We are loving the Desert Rose Collection that just arrived in the shop last week!



Gold Rush Ending Soon


Remember, if you have gold nuggets to spend, this is the last week to come in and spend them. Saturday, February 15th, is the last day.



5th Saturday Club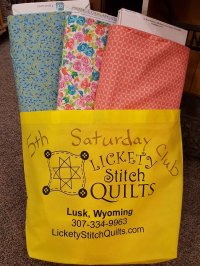 February 29 is a Fifth Saturday, so the first opportunity for those who are 5th Saturday Club members to come in and take advantage of their club membership! You can still join for $10 BEFORE February 29. Visit Lickety Stitch Quilts each of the 4 Fifth Saturdays during 2020 and get 20% off any fabric you can fit in your bag and still get it to fasten shut! You can join online, but you have to visit the store in person on that day to get the special offer!


Minkee Sale Continues

Need Minkee? We have yards and yards of all kinds of colors and textures - both on the bolt at regular prices and in 1-4 yard cuts for $9.99 a yard. We also have many colors of 90" wide Minkee, which make wonderful backings.
Lost and Found

During the past several months someone lost this earring at Lickety Stitch Quilts. We would love to unite it with it's mate and return it to the rightful owner! Give us a call if it is yours.