Western and Wildlife Facebook Live Sale!
Thanks to all of you who took part in our Facebook Live sale event yesterday. I hope you all enjoyed it as much as we did. We still have a few orders to invoice and ship, so if you purchased fabric on the sale but haven't heard from us yet you will be soon. But if you haven't heard from us by tomorrow noon, please call us at 307-334-9963- maybe we don't have your contact information.
We are planning our next Facebook Live Sale Event for tomorrow, Saturday April 25th at 3 p.m. MDT. This time we are focusing on Western and Wildlife fabrics, and they will be in bundles. We have taken our "short bolts," those that have 3 yards or less, and will sell all that is left on the bolt for 20% off regular price. There will be only one chance at each print - so the first one to speak for that bundle will be the lucky winner! We are also going to have one panel available, which is the North American Wildlife Horses pictured above. It will the the only offering that we have multiples available.
Plan to join us at 3 p.m. tomorrow for a half-hour of quilt-shop fabric sale Facebook fun! We plan to start at 3 p.m. sharp so don't miss it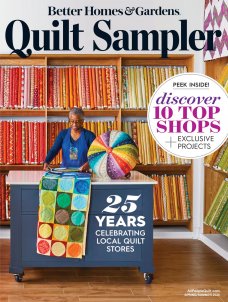 The Spring 2020 Quilt Sampler in which Lickety Stitch Quilt Shop is featured is now in stock! You can order it online or call and we can ship. The cost is $7.99. Shipping on the magazine will be $3.50 if purchased alone.


If you want the Happy Trails Quilt Kit to make our featured quilt in the magazine, we have a few kits available but encourage you to order immediately, as they are selling fast. We have fabric coming to make more kits, but there may be a short wait. The size is 69.5" x 69.5" and the cost is $104.99.