Facebook Live Event May 21, 10 a.m.
Join us for a half hour on this Thursday on Facebook Live for a sale. If you haven't attended one yet, you should! Our customers love getting bargains, seeing what is new, getting some quilting tips - and usually we have a free pattern offer for those who attend. This week we are having a CRACKER JACK SURPRISE SALE. Do you remember the prize that was always so fun to discover in the box of Cracker Jacks when you were a kid? Well - everyone who makes a purchase from this Facebook Live event on Thursday is going to get an extra surprise in their package! Plus we will be offering bolt ends for 20% off - you have to bid fast if you want one because they go quickly! In addition, we are showing a number of cute cotton-spandex knit prints 60" wide that make great tee shirts, lounge wear, and comfortable summer clothes for all. Our selection of hard-to-find laminated fabrics to use for bibs, aprons, table cloths, bags, and every project where an easily wiped off surface is important are also on the list to be featured. We never quite know what will be on the sale until it actually happens - so mark your calendar and be there!
Wyoming Shop Hop and Caroline's Star Mini Quilt Kit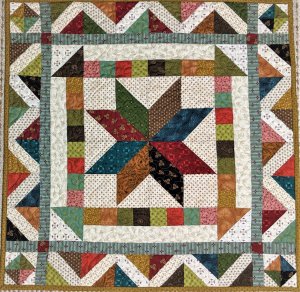 Wyoming Quilt Shop Hop starts May 26 and runs through August 31. Plan to visit every participating Wyoming quilt shop to pick up a free Star Pattern designed by each shop. You can download a passport and list of shops, as well as see the great prizes and how to win them, at www.WyomingQuiltShopHop.com. Here is a sneak peek at the Lickety Stitch Quilts' pattern - and the mini quilt Jane designed to feature it , named Caroline's Star Quilt. We will be offering this 26" square kit once the shop hop starts next week. The kit contains the pattern plus fabrics for top, binding and backing for $44.99. Pre-order Carolina's Star kit Here. Kits will be shipped starting 5/26/2020.
Dogwood Placemat Class
Michele Everts will be teaching Judy Niemeyer's Dogwood Placemat class on May 23, this Saturday. There is a good possibility it will be taught over ZOOM as a virtual class. There is room in the class for more to sign up, so if you are interested in taking it virtually, get in touch very soon so we can get you the pattern in time.