www.licketystitchquilts.com
206 S. Main, Lusk, WY 82225, 307-334-9963

Lickety Stitch Quilts Lusk shop will be closed July 4.


Shop with us online 24/7.





Kimberbell Love Notes Mystery Quilt Special





Preorder your Kimberbell Love Notes pattern (either for sewing or with the additional Machine Embroidery CD), Fabric kit, and Embellishment kit by June 30 and

get the backing kit free

! Click here to order. You will receive Week 1 pattern (plus the Embroidery CD if you are doing the machine embroidery version), fabric kit, and embellishment kit on or around August 3. Each week for 5 weeks you will receive a "Love Note" from us with that week's pattern and instructions. By the end of August you will have made the 40" x 40" quilt - a fun and beautiful tribute to those you love and who love you! Each week Kimberbell will be publishing helpful videos and tips to participants that are making the quilt. View her YouTube introduction here for some hints about the quilt and more details. We think you will love joining us as we make this cute and creative mystery quilt!
Purchase
PLUS
PLUS
and get
FREE!

Your free product will be automatically added to your order when it is received by June 30, 2020. Remember, the kits and first week's pattern and embellishments will be shipped to arrive August 3!





Century Solids in 100 Colors



100 bolts of solid colors of combed cotton have arrived at Lickety Stitch - a rainbow of color in the highest quality combed cotton for your quilts. We have added 5 new FREE quilt patterns using these fabrics to the FREE PATTERN section of our website. These fabrics are so new that they are not on the website yet - but they will be within days so watch for them soon! Meanwhile you can check out the patterns and decide which

one you will make first!

Click on the picture of each quilt below for the downloadable pattern. Designers use Century Solids in this YouTube video - and you can download the Century Solids Look Book Here!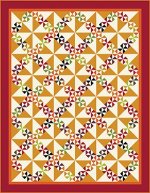 Non-Slip Get A Grip Foot Pedal and Machine Stabilizers


Do you have a problem with your foot pedal wanting to scoot across the floor out of reach when you are sewing? Does your machine jiggle and bounce as you sew? We have the answer! Special non-slip material covers our Get A Grip boards to keep your machine and petal in the right place. Click the picture below to see the sizes available.