Skip Navigation
Website Accessibility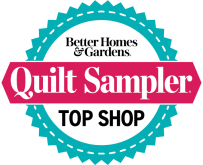 News

206 S. Main, Lusk, WY 82225, 307-334-9963, www.licketystitchquilts.com
Tablerunner Class
Our Table Topper Club will meet at Lickety Stitch Quilts in Lusk this Thursday, July 16, 10 a.m. until 4.
This month we are making the Hourglass Runner.
Jane made her's in western fabrics. Call and reserve your place - 307-334-9963.
Free Luxe Minky Throw Zoom Class
Reminder of the FREE ZOOM Luxe Throw Class July 23 at 9:30


This is the last chance to join our Zoom class taught by a Shannon Fabrics National Educator on July 23 at 9:30 a.m. Although all the places for attending the class in the shop have been full, there is room for EVERYONE else to attend at home by ZOOM! The best part is the class is FREE with purchase at Lickety Stitch of the Luxe fabric needed for the throw. And there is more good news...everyone who attends the class (either at the shop or by ZOOM) is entered into a drawing for a FREE Minkee kit, provided by Shannon Fabrics! So if you have wanted to sew with Minkee but needed some instruction, or if you are an old pro - Join us for class on July 23.


We have a couple new colors and textures available that just arrived today which are not on the web site yet. Call if you are interested in these. Colors come and go so check out other available choices here. The amount to order depends on what size throw you wish to make. For a 45" x 60" size, order 2-1/2 yards. For a 60" x 72" size, order 4 yards. With that purchase, you will receive the password for the Zoom class shortly before the class.

Other suggested supplies to have on hand for the class are:
Felt tip marker
Rotary Cutter - either 45 or 60 mm.
Craft Knife or Razor Knife with new blade
Stiletto
Flower-head pins
Wonder Clips
Polyester thread
90/14 stretch needles for your machine
Even-Feed foot (walking foot)

When you order your Luxe Minkee, you will see a "Note" box under where you indicate yardage. Just put in there you want to take the ZOOM class, and we will get you on our list! You will be sent a video link before class showing how to cut the Luxe Minkee in order to have it squared up and ready to sew when class starts.

Have a scheduling conflict that you can't attend the class on July 23 at 9:30? The video will be available to watch for 2 weeks after the class so you will still be able to take advantage of the expert help and guidance in making your throw. However, unless you are present at the class time you will not be able to be in the drawing for the Minkee kit giveaway.

Be sure to get your order in right away so you have your supplies in time for the class.



`