Clearance Sale and Facebook Sale

206 S. Main, Lusk, WY 82225, 307-334-9963, www.licketystitchquilts.com




IF YOU LOVE A GOOD SALE, COME SEE US!



It's time to clear out some bolts and make place for all the new merchandise that will be arriving soon! We have several sections in the shop marked for Clearance.


SKINNY BOLT SALE


Right at the front door we have a large group of SKINNY BOLTS - most are 1-3 yards on the bolt. Purchase the rest of the fabric on the bolt and receive a 20% discount.

NEW MARKDOWNS


In the second room of the shop next to the classroom we have a large selection of bolts that are newly marked down to $8.99 per yard. You will be saving 20-30% on these fabrics.

FURTHER MARKDOWNS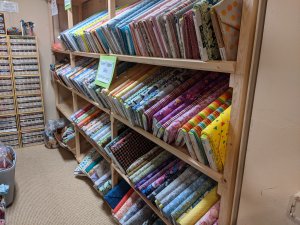 In the vault, we have marked down the Green Tagged bolts even further to $5.99 per yard FOR A LIMITED TIME.

There are a lot of fabrics in each of these categories right now, so come in while the selection is best.

For our online customers, we will be offering some of these great specials on Face Book Live Sales. The first sale is scheduled for - Tuesday, January 12, at 5 p.m. MST. Log onto the Lickety Stitch Quilts Facebook page for some fun sale shopping from the comfort of your home!