Lickety Stitch News


206 S. Main, Lusk, WY 82225, 307-334-9963, www.licketystitchquilts.com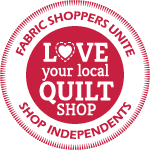 Local Quilt Shop Day This Saturday, January 23


Love your local quilt shop? We love our customers! Come see us on Saturday, January 23, 2021, as we have some great sales going on to celebrate Local Quilt Shop Day. Many of these super specials will be ONE DAY ONLY, 9 a.m. to 4 p.m. We have a special gift with purchase for all in-store customers.

Saturday will be the last day for our

$5.99 clearance sale

- these are in-store specials only and we still have hundreds of yards of beautiful fabric at this deeply discounted price. These bolts are quilt-shop first quality cottons from top brands that are great for any project. Additional uses beyond quilting are backings, charity quilts, stash builders, pillowcases, bags, rugs, and much more.



Buy One Get One 1/2 Off


All books and patterns in the shop - One Day in-store Only



75% Off Select Group of Notions and Gifts


One day only!



Facebook Live Show and Sale on Tuesday, January 26 at 5 p.m.


We will be showing and demonstrating new and favorite notions, rulers, and more. Watch to learn about what is available and to have a chance to win fun prizes. Like and Follow Lickety Stitch Quilts on Facebook to participate.



A Place to Go - A Place to Sew


Our classroom area is open several days a week for you to come in and sew. It is a great way to get projects finished, get help with projects you have questions about, and spend time with friends or make new ones. Call 307-334-9963 for available dates. You can arrange a personal retreat with a group of friends to celebrate a birthday or just because!