Skip Navigation
Website Accessibility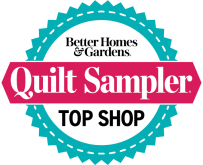 Farmhouse Quilt Kit Available

206 S. Main, Lusk, WY 82225, 307-334-9963, www.licketystitchquilts.com
Two new quilt kits are available.




Farmhouse Queen-Size Quilt Kit, shown here with optional borders.


The Farmhouse Quilt kit includes fabrics from the beautiful Camilla collection from Wilmington Prints in country red, blue and cream.The kit makes a large Queen-size quilt finishing at 88.5" square. Although the quilt looks complicated, there are clear instructions for each block that make it go together quickly. This pattern has enough variety to make it interesting, and none of the pieces are too small so it is not tedious. With fabric left over in the kit plus an additional purchase of 1 yard, we added the optional border to enlarge the quilt to 109.5" square which is pictured above. A limited number of kits are available for $200 each and can be ordered here.




City Lights Quilt Kit


Our other new kit is from the City Lights Collection by Northcott Fabrics. Finishing at 72" x 86", it is deep blue and gray, and makes a great masculine quilt. $109.99. For more information and to order click here.


Join us on the Lickety Stitch Quilts Facebook page for a


Facebook Live Tuesday, April 20, at 5 p.m. showing our newest products.