National Quilting Day Sale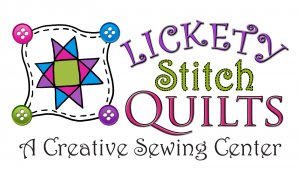 206 S. Main
Lusk, WY 82225
307-334-9963
www.licketystitchquilts.com


Saturday, March 17, is National Quilting Day. Read to the end of this newsletter to find out how to get this 2012 National Quilting Day free quilt pattern. We have the fabrics to make it like you see it or we will help you pick out fabrics in another colorway of your choice.


Pointing The Way - 2012 Free Quilt pattern from National Quilting Association.

In recognition of National Quilting Day, we are offering the following in-store specials this week from March 15 thru March 21:

PRECUT FAT QUARTERS: Buy 5, get 5 free!

50% off KOKKA linen blends. These fun prints have guitars, seven dwarfs, floral, and play-time themes. $10 off per yard one week only! Great for garments, bags, pillowcases, home decorating, as well as quilting.



25% off select North American Wildlife prints. Moose, Wolves, Deer, Elk to name a few.




25% off pet themes. Are you a dog or cat lover? Now is your chance to save!


25% off Sewing and Knitting theme prints.


25% off several rose and floral theme collections. Includes panels with coordinating prints.


10% off Talking Quilts in many themes - These panels come in two sizes and each package contains numerous quotes pertaining to a theme such as "friendship", "quilting", "mothers", "son", etc. What a fun way to add a message to a quilt for a special person or special occasion. The quotes are printed on neutral-colored fabric, ready to be set into your own blocks or pattern.


We have prints for St. Patrick's Day. How about making a 10-minute Table Runner for the occasion?

CLASSES: We continue offering personalized classes for individuals and small groups customized to the time and project that work for you. If you are interested, please don't put it off - as summer approaches, we may discontinue classes due to time and space limitations.

BELLA VERONA BLOCK OF THE MONTH QUILT KITS:
We have 4 precut Bella Verona Block of the month kits left - most of the pieces have been cut for you to help you create this beautiful quilt. The cost to sign up for the program is $25, which includes the pattern, a $30 value. The cost for the program is $25 per month for 12 months. If you want to receive your kits faster, you can go at your own pace just as long as you purchase them all within a year. We are offering a special to those who finish their quilts within a year of 50% off the backing with the purchase of the 12th kit. The term "Block of the Month" is used loosley here, as some months there are several blocks, some there are fabrics for sashing and borders, etc. We will give you all the help and support you need to complete this beautiful queen-king size quilt. Check with the store for details.



Here is the link to the National Quilting Day 2012 free pattern : nqaquilts.org/free-projects/.

Do you have items or services you would like a place to advertise in a swap-shop or classified on-line format? We are considering adding this service to our web-site. The purpose would be two-fold -- to offer a free service for our on-line and local community to let others know what items they have for sale or are in need of, and to encourage more people to visit our web-site. This would not be limited to quilting and sewing type items, but this would include all types of items and services. If this is of interest to you, please call 334-9963 or stop in the store. This would only work if there is enough interest and participation to make it worth while for people to check in often to see what is on the site, so let me know your opinion whether it is a needed service in our community.