Skip Navigation
Website Accessibility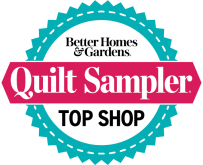 Lickety Stitch News

206 S. Main, Lusk, WY 82225, 307-334-9963, www.licketystitchquilts.com


Monday, July 5, 2021

Lickety Stitch is offering a one-day class July 29 for beginning quilters. If you have recently started quilting or are thinking of starting and want to learn or sharpen the very basic skills, this class is for you. We will be customizing the class to the level of skill of the attendees. The class will start with choosing fabrics, using the rotary cutter, sewing a 1/4-inch seam, matching corners, adding borders, pressing and more. If you want help learning to operate your sewing machine, we will also assist you there. The focus of the class will be building skills you can use with every quilt or project you make in the future. The class is being offered Thursday, July 29, 2021, and will be limited to a maximum of 6 participants. Click here to register for the class. Class fee is $25.

Last Facebook Live session 5 p.m.Tuesday, July 6

We have been recording FaceBook live video sessions on Tuesday evenings at 5 p.m for several months. Tomorrow, Tuesday July 6, will be our last "Tuesday at 5 live" session for the present. In place of the scheduled sessions, we will be recording sessions throughout the week when new products arrive in the shop and when we have other shop news. You can always see them at Lickety Stitch Quilts on Facebook after the session is over if you don't catch them at the time they are being recorded. Please make sure to like and follow our Facebook page so that you don't miss the latest Lickety Stitch Quilts news! For this last session, Jane is going to demonstrate the technique used in Janet Nesbitt's "Crazy" series where you stack, cut, shuffle, and sew for a wonderfully unique set of blocks.