Singer Featherweight Machine

206 S. Main, Lusk, WY 82225, 307-334-9963, www.licketystitchquilts.com
Super Summer Sale Going on Now
This week we have amazing sales going on in the shop. Hundreds of bolts around the shop are marked 25% off, plus every day we have a category of products reduced for the day.


Tuesday - Wide Backings are 20% off
Wednesday - Featherweight products are 20% off
Thursday - Select Kits are 10-50% off
Friday - Flannels and Panels are 20% off
Saturday - Sidewalk Sale
Clearance fabrics are further marked down to $6.99 a yard.



Singer Featherweight Machine for Sale



Is owning a Singer Featherweight a dream of yours? Join us this evening, Tuesday, August 17, at 5 p.m. on Facebook Live as we talk about the machine and the auction. We will be giving all the details of the auction being held

tomorrow, Wednesday, August 18 at 1 p.m. over Facebook Live.

If you can't be there at 5, the video will be posted for viewing after it is finished.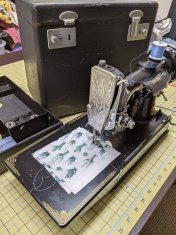 Here are pictures of the machine that will be auctioned. The serial number is AF484346. It was manufactured at Elizabethport, New Jersey, in 1940, one of 20,000 in that production. It has a beautiful scroll faceplate and stitches quietly and evenly with the legendary quality of Singer Featherweights. It will come with the case with tray, two extra bobbins, and a rolled hem foot.
We have taken this machine in on consignment so there will be a minimum bid which will not be announced. If the machine does not reach that bid, it will not be sold. Bids will be taken in the shop for customers present as well as online on Facebook. If you wish to place a maximum bid before the sale, we will be taking those by phone. Call 307-334-9963 with questions. We greatly encourage anyone interested to come to the shop and take a look at the machine in person before the auction at 1 p.m. Wednesday.