Skip Navigation
Website Accessibility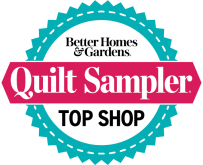 Lickety Stitch News

206 S. Main, Lusk, WY 82225, 307-334-9963, www.licketystitchquilts.com





Facebook Live Presentation Tuesday at 5 p.m.
Join us today, September 28, at 5 p.m. MT to see what is new in the shop. We had a busy week last week with our September Sew Days and Quilt 'Til You Wilt Retreat. Now we are ready to get back to our usual schedule and want to catch you up on what is new in products and classes. We will be giving away a beautiful fall table runner to one lucky person through our Facebook Live videos. Be there at 5 to learn how to qualify for this gift! If you can't be there for the live video, it will be available for viewing afterwards.



Sewing Machine Service Clinic News



The sewing machine service clinic has been postponed because Tracy is not able to come this week. We will be rescheduling it for a date in the near future. If you need your machine serviced, this will be the last clinic this year so get your name on the list NOW! The advantage of our service clinics are many.
1.Many service centers are presently working around 3 months behind right now. Bring your machine here and you don't have to wait for months - your machine can be available the same day you bring it to us! We can usually arrange to have your machine done within a couple hours if you are coming from out of town and don't want to make two trips.
2. Secondly, the price is right! Basic service is $89.99 on sewing machines of any brand. Compare to $129 for the same service in other places.
3. Tracy Miller, our technician, has been factory trained on machines of almost every major brand and works in the field every day. So he keeps up with technology - but is also well able to service older machines.
Call today to get your name on the list. 307-334-9963 Spaces are limited. We will then call you when the new service date is set and arrange for you to bring your machine into the shop.