Spring Cleaning Sale!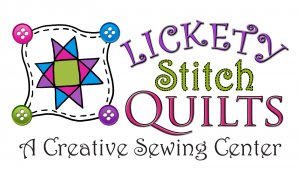 206 S. Main
Lusk, WY 82225
307-334-9963
www.licketystitchquilts.com
SPRING CLEANING SALE!
April 9 thru 21



Come help us make room on our shelves for new spring fabrics and take advantage of our week-long spring cleaning sale!
Read to the end of this newsletter to find out how to get a beautiful reusable tote bag free.
New Mark Downs
:
25% to 50% off over 70 bolts - includes fleece, flannels, cottons, double-face prequilted, Moda collections, Westerns... something for everyone.

10% off these fun collections!:

10% off "Welcome to Bear Country" collection featuring the Berenstain Bears.

10% off Busy Town A to Z featuring Richard Scary's characters.

10% off Pickles Collection featuring the comic strip by Brian Crane.
10% off Wolf Panels.
10% off John Deer fabrics.
10% off Spiderman.
10% off Maxine.
10% off Tinkerbelle.
10% off Pokey Little Puppy.
10% off Tootle Train.
10% off Cat in the Hat.

$2 off per yard Flat Folds

$1 off any in-store Kwik Sew Pattern.

Don't miss these new arrivals:

Celebrate Seuss and Cat in Hat, cotton and flannels.

Moda's Sunrise Sunset collection by Holly Taylor

Saddle Up

Free InstaTote Bag (value $3.99) with $100 purchase.

Free InstaTote Bag (value $7.99) with $200 purchase.
While supplies last
All special prices good from April 9 thru April 21, while supplies last.