August News and Specials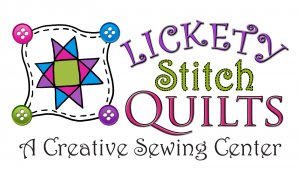 206 S. Main
Lusk, WY 82225
307-334-9963
www.licketystitchquilts.com
Isn't it a welcome change to have some cooler weather! Now is a great time to start thinking of projects for the fall and winter.

In-Store Specials for week of August 18 through 25:


25% to 75% off all patterns and books.

25% off Holloween, Thanksgiving & Christmas fabrics!

25% off in-stock Wool Yarn from Brown Sheep Company
.
FREE PATTERN
AND SHOP-HOP NEWS
Ask for a free copy of the "Strictly Sunshine" pattern now through August 31.

There are 2 weeks left to take advantage of the Wyoming Shop Hop. If you haven't gotten a passport, stop in today and pick one up along with a map and list of participating stores. Also pick up a free copy of the "Strictly Sunshine" quilt pattern which is our shop-hop block. Don't forget to put your name in the jar for our drawing for a $50 Lickety Stitch gift certificate to be held on August 31.


Calling All Quilters Interested in a Lusk-Area Quilting Group.
Are you interested in getting together once a month with other quilters in the area to learn new techniques, sharpen your skills, and share projects? We are planning a meeting on Saturday, September 8, at 10 a.m. to find out if there is enough interest, determine the best time and place for meetings, and establish what types of things you quilters are interested in. Lickety Stitch is hosting the first meeting and we are going to have a fun gift bag for everyone who attends and a drawing for door prizes. It would be helpful if you would call ahead to 334-9963 and let us know you plan to come so we know how many to prepare for. If you can't call ahead, please come anyway, as we want to include as many as possible in this first meeting.



So many new fabrics, patterns, and books have arrived in the store since our last newsletter, it is hard to cover them all.

Cowboys and Cowgirls and Tipis
Quilt from the Sew Simple Pinwheel book and Tend The Earth fabrics by Moda.
Technique from "Fabulous Fractues" book.
We have several new doll patterns, including this Topsy-Turvy doll.
Dear Mr. Claus fabrics and pattern by Cosmo Cricket for Moda.


UPCOMING NEWS


These are just a few of the new fabrics that are already in-stock, and we have many, many more coming in the next weeks.

Sometime in the near future, possibly October, we will be having a Sewing Machine Service and Sale Event here at Lickety Stitch in conjunction with Wyoming Sewing Center from Casper. If you are thinking of getting a new machine or needing your old machine serviced, watch for additional information.

Until next time!
Karen