Lickety Stitch News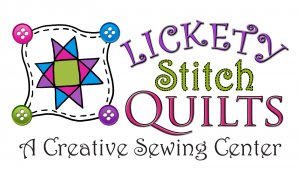 206 S. Main
Lusk, WY 82225
307-334-9963
www.licketystitchquilts.com
Sewing/Quilting group to meet at Lickety Stitch Saturday, September 8, 10 a.m.
Make plans to join us on Saturday, September 8, at 10 a.m. for the first meeting of our Lusk sewing/quilting group. We will be deciding at that time when, where and how often we will meet, what the meetings will focus on, as well as learning a new technique or two and previewing some great products that have recently come in. There will be refreshments and a gift bag for each participant. Call ahead if possible to let us know you are coming so we know how many to plan for. Bring a project you are working on or have finished to show the group if you like. I see the purpose of this group being education, inspiration, friendship, and a place to connect with others of similar interests.
Linda Kane donates to Quilts of Valor.
Area quilter Linda Kane recently completed a beautiful quilt for Quilts of Valor which will be given to a Wyoming vetran as a gift of appreciation for their service. Watch for information in future newsletters on a quilt kit we are putting together especially for QOV.


New fabrics in the shop this week include Linus and Snoopy prints - fireworks - old pickups - playing card prints - just to name a few.


The winner of the $50 Lickety Stitch Gift Certificate drawing for the Shop Hop was Mary Cottam from Casper. The shop-hop was a popular activity for quilters in the state this summer. 212 shop hoppers signed the guest book in our store alone. Congratulations, Mary - we look forward to seeing you soon.



Dana Williams' Cute Bag made from Remnant Package
Dana discovered the Remnant Packages in our clearance section - and creates cute bags and projects from the fabrics contained in each of them. This week remnant packages are 25% off - so check them out and become inspired by the grouping of unique fabrics and prints each packet contains.

Tips for sewing with Minkee

Minkee fabrics, the very soft furry fleeces that are so popular, need to be handled a little differently than cottons. First of all, they shed fuzzies wherever they are cut. As soon as the cut fibers are removed, they will quit shedding. Be prepared with a vacuum cleaner nearby when you are cutting minkee! The fibers may stick in your cutting board if you use a rotary cutter to cut them. I use a nylon-net scrubbie to remove the fibers from my cutting board, then a piece of scrap polyester batting to go over the cutting board again to collect any stray fuzz.

Sewing minkee takes a bit of patience. If your machine has an even-feed or walking foot, use it! Use as many pins as necessary to hold the pieces in place. Spray adhesive, we suggest 501 spray, works well to hold the minkee to the batting. Consider the flip and sew method so your quilt is quilted when the top is finished.

Slow down! Because minkee has a tendency to stretch as you sew, sewing at a slower speed than usual will help you make straight true seams.

Don't shy away from using minkee - it is a favorite of all ages either for both the top and back of a quilt, or for just the back. We have beautiful prints including wildlife, children's prints, and more to help personalize your quilt - as well as kits that make selection a breeze.



Potato Bag Fire Hazard Warning!


Use onlyt 100% cotton batting and 100% cotton fabric in any product you plan to use in the microwave. Never use polyester batting in potato or tortilla warmers or any item you plan to put in the microwave. If you have such an item, do not use it in the microwave. We have had reports of potato warmers with polyester batting sold at local craft fairs starting on fire when put in the microwave. We carry Warm Tater 100% cotton batting at Lickety Stitch which is safe for products used in the microwave.



We want to help you Finish Those Quilts!


Have you started quilts that you intend to finish some day but just haven't gotten around to doing so? Make an appointment to come to the store for a session or two to work on them and get them finished! We want to help you get your projects to the place where you can enjoy them Do you have a any un-quilted quilt tops in your collection? Lickety Stitch Quilts offers machine quilting services to help you finish those quilt tops. Here are a few tips to help you prepare your quilt top, batting, and backing.

1. Backing should be at least 4 to 6 inches wider and 8-10 inches longer than your quilt.
2. Do not pin the layers together but fold each layer separately.
3. Make sure all layers - quilt top, batting, and backing - are square and edges straight. Squaring backing can be a bit tricky but it is very important to having your quilt turn out square.
4. Press the backing.
5. Remove all loose threads.
6. Do not put any emblishments on the quilt until after it is quilted. If the quilting machine should run over something such as a button, it can damage the machine and the quilt.