Skip Navigation
Website Accessibility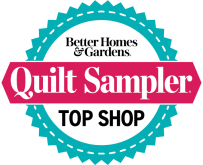 Visit Your Local Quilt Shop Day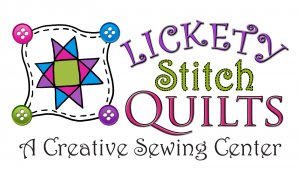 206 S. Main
Lusk, WY 82225
307-334-9963
www.licketystitchquilts.com
Come Celebrate "Visit Your Local Quiltshop Day" with us on Thursday, January 24

Yes, there really is such a day as "Visit Your Local Quiltshop Day!" It is January 24, 2013. (Of course, we think it should be everyday!)
This is one day of the year that we want EVERY CUSTOMER POSSIBLE to come in and visit us. We have plans for some Super Sales, a demo hour, and fun Give-Aways. In addition, every customer who comes in and registers on January 24 will become a VIP for 2013 and be entered into our customer appreciation loyalty program, which will pay off in benefits throughout the year.



Demonstration Hour 2 o'clock p.m., Thurs., Jan. 24.



Demos to include:
Donna Hanson is going to demonstrate the "Slice" electronic fabric cutter - an easy way to cut out creative shapes for applique and other uses.
"Creative Sewing for Your Table" including table toppers, runners, and placemats.


Here are two of the projects that will be demonstrated - a beautiful table topper with a surprise method of making triangles, and the Easy Striped Table Runner, both which use the 60 degree ruler.

Mildred Lewis will demonstrate a new quick and easy 4-Patch method.

10-Minute Blocks.

9-degree circle Wedge.

Tips for quilting on your personal sewing machine.
And more!

These cold days of January are great days to stay home and quilt, but come see us on Thursday, January 24, and enjoy all the special treatment we can think of to pamper our customers.



New Arrivals


Honey Honey
from Moda,

Monkey Around
from Quilting Treasures
Lotus
from Timeless Treasures.
Click on the name of each collection above and it will take you to the website so you can see the individual fabrics in the collections.
Chalk Cloth - a vinyl fabric that is water proof and can be sewn into a project giving a surface that can be written on with chalk, then erased and written on again, like a chalkboard. Suggested projects are a game table cloth, where you can keep score right on the top of the table, Notebook covers, Signs, Bags... check Pintrest for more ideas. Sold by the yard, 48" wide, or in Fat Quarters

!!! January In-Store Specials !!!
Each day from January 21 through January 31 a different notion plus a different fabric group or collection will be marked 25-50% off. One day it will be Westerns, one day it will be 1930 Reproductions, one day it will be Wildlife, etc. You must stop in the shop to see what is the "Special of the Day" - it will be worth your while! These specials are available in-store only.


Focus on a Notion

We stock many innovative notions that make sewing and quilting easier. One is the Frixion Erasable Gel Pen (click here to watch a video on it) which we have in 6 colors. Used on paper, it writes with the ease of a gel pen yet can be cleanly removed with the eraser on the end of the pen. When used on fabric as a marking pen, it can be erased with the touch of an iron. It has the unique ability of being able to be made visible again by getting it cool (put in freezer for few minutes) if you accidentally erase it before you are ready. It can be permanently erased by washing or by spraying with Best Press.
As with any marking pen or pencil, it is advised you test on a scrap of fabric before using on your quilt.
Quilts for Local Military Personel

Several members of the community have expressed interest in making quilts for men and women from Niobrara County who are presently serving in the military. We contemplate needing 20-25 quilts. If you would be interested in being involved in this project, please call me. I will compile a list of those interested and we will schedule an organizational meeting. This is a big project for a community of quilters the size of ours, and in order to make it work we need help! If you have any ideas or wish to help in any way, call or e-mail. 307-334-9963. karen@licketystitchquilting.com

I doubt many of you realize how many out-of-town customers traveling through Lusk make the comment "I can't believe you have such a nice quilt shop in such a small town!" Many go on to say that they live in cities or much more populated areas yet don't have access to the variety or quality of fabrics that we have at Lickety Stitch. We want to thank you, our local customers, for your support and loyalty making it possible for us to be here. We are well aware that your business keeps us in business! Doing your business with us, as well as other local businessess, is what keeps Lusk alive. Everything you buy locally enables us to support local causes, school activities, 4-H, charities, etc. as well as pay taxes to support the community. Thank you for shopping with Lusk merchants, including Lickety Stitch Quilts.