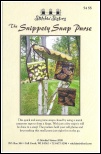 The Snippety Snap Purse
UPC:
11664
The Snippety Snap Purse uses an old measuring tape to snap close and inside pockets perfect for your keys or cell phone. This pattern is by Stitchin' Sisters.
$8.50
Crazy At The Cabin
by 3 Wishes Fabric
UPC:
744527113743
Manufacturer #:
B1374
Create pieced table runners wall hangings and bed-sized quilts with an appliqued look Fans of Crazy piecing will enjoy discovering all-new patterns to stitch. 96 pages Paper-back.
$26.99
Round Up - Stripe
Blue - RU1981-7
by Midwest Textiles And Supplies
Manufacturer #:
RIV-RU1981/7
Blue stripes with red yellow and green dots in
"the"
stripe and smaller red white and yellow stripes. From
"the"
Roundup Collection from River Bend fabrics. 100% cotton. 44"-45" wide.
$11.25
Diamonds on the Horizon
by Northcott Fabrics
UPC:
639725119799
Manufacturer #:
PTN2731
Makes a Queen size 92" x 98" or a wall size 50" x 50".
$12.50
Home on the Range
by Whimsical Workshop
UPC:
703791952793
Manufacturer #:
TWW0667
This pattern give you two versions to choose from giving you a 66" x 82.5" top.
$12.00