Skip Navigation
Website Accessibility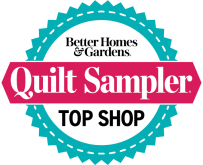 Shipping Information
Shipping within the USA:
When you place an order with Lickety Stitch Quilts, shipping is simple and hassle-free! All orders ship within 1-2 business days, with expected delivery within 3-7 business days. Packages are mailed via United States Postal Service (U.S.P.S.) and UPS, depending on the size and weight. Very small packages of one or two patterns or 1/2 yard of fabric will have the shipping adjusted down to $5 before collecting the payment.

-All other orders ship for $8.50.



Shipping cost is automatically calculated at checkout - no coupons required!
Some exclusions apply for over-sized packages. Valid only for packages shipped within the United States.

International Shipping Options are not offered at this time.