Skip Navigation
Website Accessibility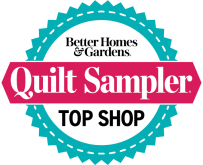 Rapid Fire Lemoyne Star - DT10
This ruler will give a quilter the ability to accurately piece traditional Lemoyne Star blocks in 10 different sizes. The block units are strip pieced, assembled without using any "Y" seams, pieced so that the blocks themselves are slightly over sized so at the end each can be trimmed to an exact size. A truly addicting ruler and process.
The lemoyne star ruler can make finished block sizes from 3" to 12", comes with step by step illustrated instructions, left handed cutting instructions, a free bonus pattern, charts to help determine fabric requirements in future projects, and fine lines or higher accuracy.


PLEASE CALL IN TO ORDER THIS ITEM FOR ADJUSTED SHIPPING COST!!