Skip Navigation
Website Accessibility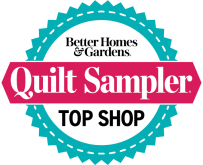 Fireside Chat Pattern
Fireside Chat Finishes to 87-1/2in x 87-1/2in.

Fireside Chat first appeared in American Patchwork and Quilting magazine in October 2013, where it was renamed Crack the Code. I'm going back to its original name, as a nod to the main element--little "matchstick" blocks that encircle the center "chimney" of each block.

It's a cozy quilt to snuggle under by the fireside and chat the evening away with your cherished dear ones. The version photographed for the pattern is stitched up in the pale or woodsy colors of a cool winter's day, with a few oranges hanging out in the pines for the birds to enjoy. Choose the palette that lights your own inner fire.